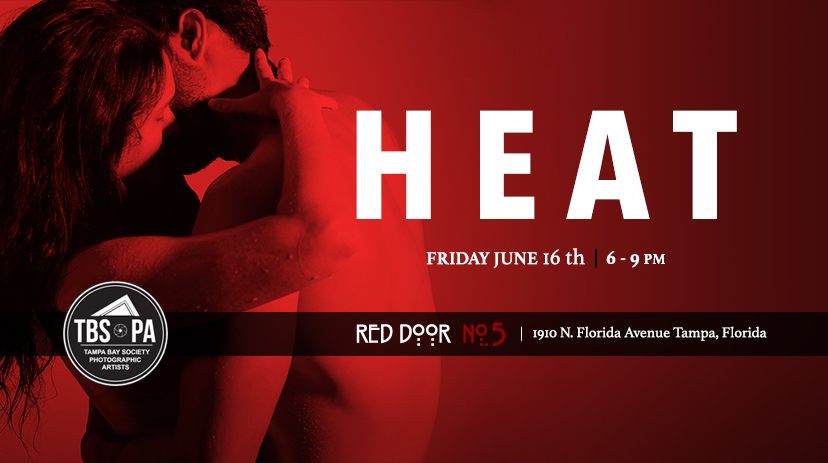 Hosted by Red Door No. 5 Gallery - The Tampa Bay Society of Photographic Artists Presents:

HEAT - A themed, Photographic Fine Art show

The show is scheduled to take place Friday, June 16th | 6-9 PM
at RED DOOR NO.5 GALLERY | 1910 N Florida Ave, Tampa, Florida 33602
Don't Miss this steamy show!
Enjoy some Photographic Fine Art, Wine and some catered Hors d'oeuvres!
-
FB EVENT PAGES:

Participating Artists:

Annie Rosse
Erik Cocks
Heather Rampolla
Javi Ortiz (ZITRO)
Jim Miller
Jose Gomez
Katherine Campbell
Mahesh Patel
Mark Rodriguez
Marlene Fox
Michael Sheehan
Michael Trefry
Myra Thiessen
Patricia Blauvelt

*Promo Photo by artist Michael Trefry*

A huge thank you to RED DOOR NO.5 for being kind enough to host this event.
Red Door No. 5 is a beautiful art gallery, housed within the old but rennovated Tampa Heights Fire Station.
Connect with RED DOOR NO. 5 :

http://www.firestationno5.com/
https://www.facebook.com/reddoorno.5/
https://www.instagram.com/reddoorno.5/

Event Location
Red Door No.5 Gallery • 1910 N. Florida Avenue • Tampa, FL 33602 • US
Contact Information
Contact: Alyson Maier
Phone: (941) 276-0336
E-mail: