Event Information
Were back for yet again, another year! The Tampa Bay Society of Photographic Artists presents: Exposed - A Nude Art Experience & Fine Art Show.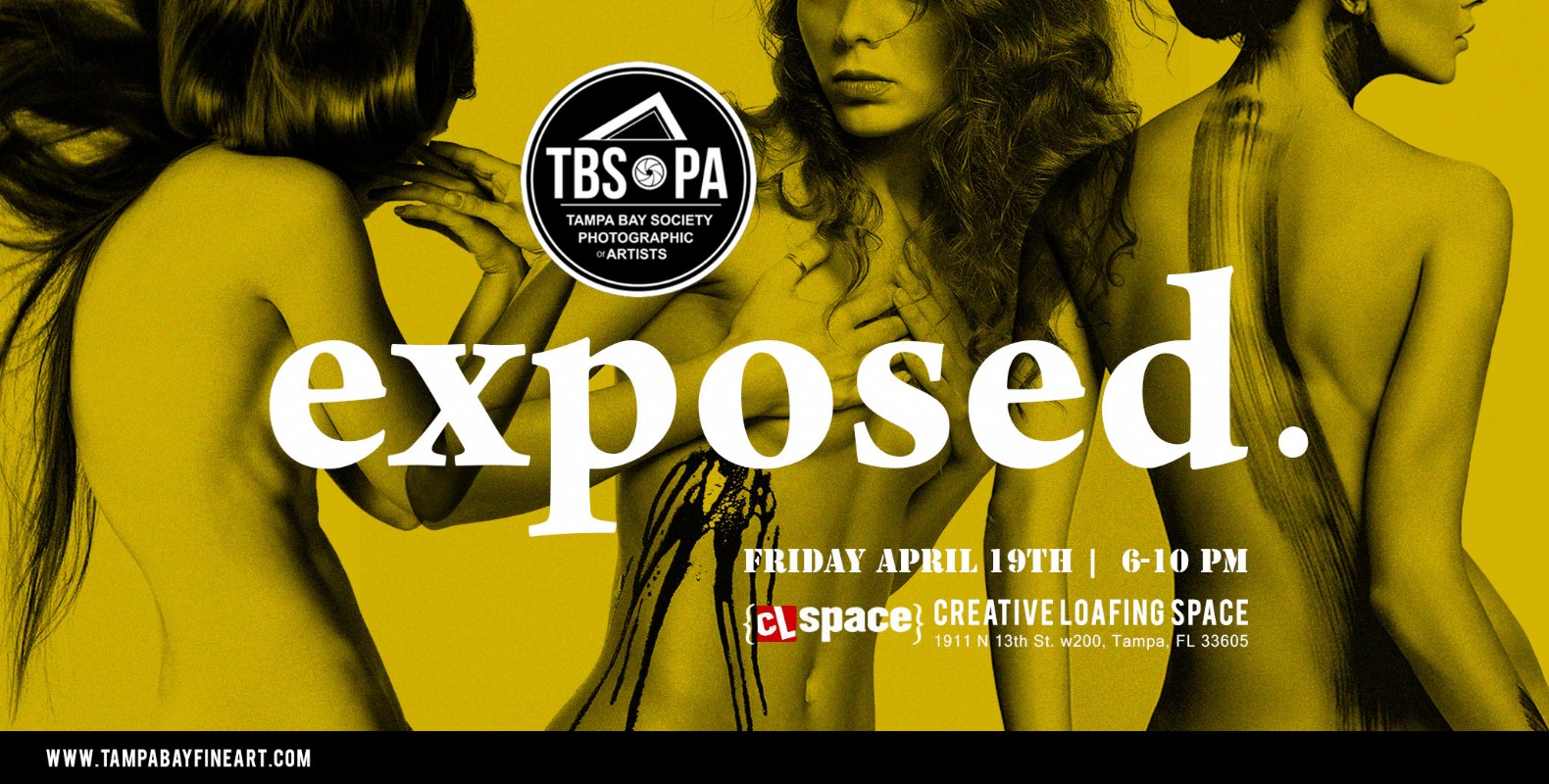 Come and experience the blatant, the abstract and the sensual/beautiful landscape that is the human body. Join us for a one night only show - an evening of uncensorship.

Date & Time: Friday, April 19th | 6-10pm
Location: Creative Loafing Space - 1911 N 13th St w200, Tampa, FL 33605

Admission: A $10.00 Donation to our Non-Profit grants you admission to the Event, it's activities & food.
Additional Details: You must be 18+ to enter this event. Identification will be checked at the door. All Attendees will be stamped upon entry. Attendees 21+ will be stamped differently to indicate their legal drinking age for the wine.
For Donors: With a Donation of $5.00 to our Non-Profit, attendees will recieve 2 Drink tickets. Each glass of wine is 1 Drink ticket.
Drinks: Wines available: Merlot, Cabernet Sauvignon, Pinot Nior, Chardonnay, Riesling, Sauvignon Blanc. Complimentary Water & Soft Drinks will be available.
Food: Assortment of Crackers / Fruits: Grapes, Strawberries, Apples, Pineapple / Cheese & Meats: Cheddar, Pepperjack Cheese, Gouda, Salami, & Ham. / Mini Sandwiches.
Activities/Entertainment :
Nude Tent (Upon Reservation of a slot - Registration NOW OPEN)before the event) - Exposed offers attendees the chance to be photographed in the signature style of one of our exhibiting artists - your choice upon reservation.

Nude Study Drawing Station -

Attendees will be able to sit and enjoy some creative time with a live, Nude Model serving as their muse. Attendees will have access to Sketching Pads, White Erasers & Graphite, Charcoal & Colored Pencils.

Body Painting Professionals - Enjoy Live Body Painting throughout the event. Body Painting Artist: SK Estragos D Gante

Burlesque -

Rio & Sophia Luna from Moon River Cabaret - Miami
Art Bidding: Attendees will be able to bid on art work with an offer and or purchase the art work at it's full listed price. Bids can either be rejected or accepted by the artist.
Artist Line Up:
Annie Rosse, Bob Terri, Charles Titterington, Charlie Krusac, Estelle Brock, Gary Nichols, Gregg Walters, Hampton Allen, Jensen Taylor, Jim Miller, Joe Sale, Jose Gomez, Josh Bozarth, Kevin Barney, Lisa Presnail, Marlene Fox, Michael Sheehan, Michael Trefry, Ozem Ellis, Patricia Blauvelt, Richard Pollin, Robert Taylor, Samantha Garber, Steven Baltz


About Us:
The Tampa Bay Society of Photographic Artists is nonprofit organization in the State of Florida. Our mission is to develop fine art photography in the Tampa Bay area through collaboration, education, and exhibition.
Event Location
CL Space • 1911 N 13th St Ste W200 • Tampa, FL 33605 • US
Contact Information
Contact: Jose Gomez
Phone: 813-441-9814 x 200
E-mail: