Tampa, FL – The Tampa Bay Society of Photographic Artists, a non-profit organization presents 'EXPOSED' - a nude themed photographic art show. With over a hundred submissions, the society has gone through a rigorous curation process and chosen thirteen Tampa Bay fine art photographers to showcase their work in a one night only show at Creative Loafing Space located in Ybor. These artists are: Erik Cocks, Javi Ortiz, Jim Miller, Annie Gonzalez, Jose Gomez, Mahesh Patel, Mark Rodriguez, Marlene Fox, Michael Ortiz, Michael Sheehan, Michael Trefry, Myra Thiessen and Steven Baltz. Following the success of their last themed show, Dark Moments in downtown St.Petersburg , the organization is committed to reaching different audiences, in different areas, as well as influencing the Tampa Bay art community. Participants in the exhibit include artists that have been featured in Nude Nite, award-winning photographic artists and rising stars from the local community.

"For artists who specialize in the nude form and concepts involving nudity, Exposed represents a rare opportunity for them to showcase before a crowd that is drawn to the subject matter and expression," commented TBSoPA board member Jose Gomez. "It is through exhibits like these that we are able to freely express who we are as artists and connect with our community using a common language, celebrating our humanity, our sexuality, and our beauty."

The show will be held - for one night only at Creative Loafing Space in Ybor on Friday, March 17th, 2017 from 6-9 PM. TBSOPA invites you to come and experience the blatant, the abstract and the sensual /beautiful landscape that is the human body. Admission to the event is free. Wine and hors d'oeuvres will be available.
Friday, March 17th from 6pm - 9pm
Creative Loafing Space - Ybor
1911 N 13th St w200, Tampa, FL 33605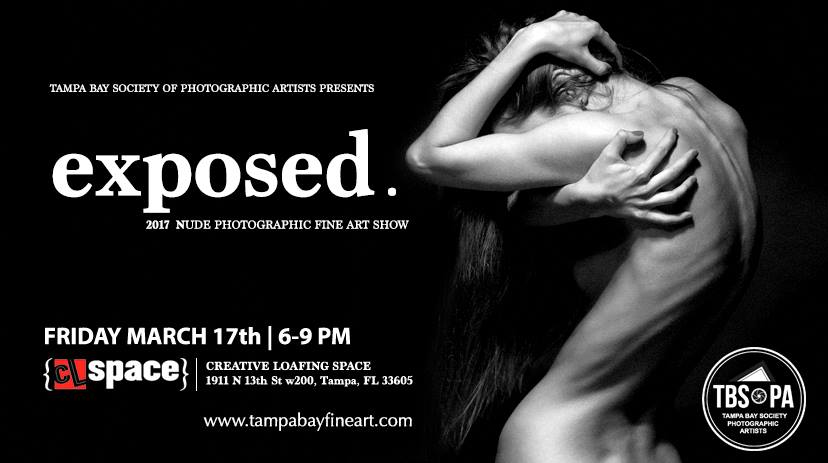 FB EVENT: